Ratchet and Clank Future: Quest for Booty Review
Score: 79 / 100


*Good:* Pretty graphics, fun new puzzles, great platforming, all the fun weapons from Tools of Destruction


*Bad:* Way too short (3 hours), not worth $15, no Clank


I had really never played a Ratchet and Clank game until I got a PS3 and my friend told me to play Tools of Destruction. Needless to say, I was hooked.
This is what led me to buy Ratchet and Clank Future: Quest for Booty for $14.99 off of the Playstation Network. I would also like to add that I visited a few retail stores before I figured out that this game is only available online (at least in the US).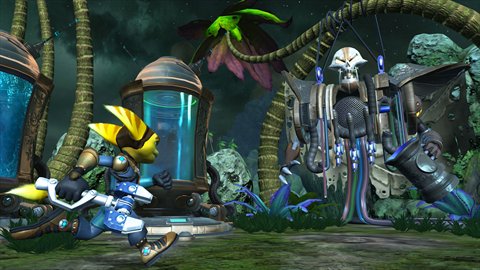 Quest for Booty picks up where Tools of Destruction left off and for all who don't know…Clank is missing. The entire game is based around Ratchet trying to find a pirate's treasure that has a magical device that can reach the land of the Zoni where Clank has been taken.
While I am sure the storyline of any Ratchet and Clank game fascinates you, the gameplay is really why you are playing…so let's talk about it.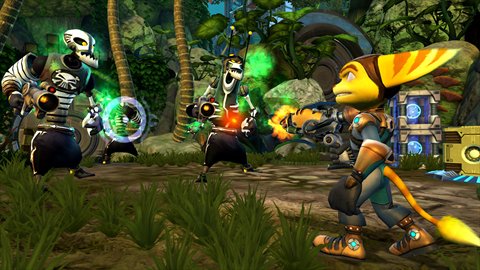 The gameplay for Quest of Booty is just like any other Ratchet and Clank title, minus Clank. In fact, it is almost the exact same as Tools of Destruction. You get the same weapons, practically the same enemies, and the same beautiful level design.
Something you need to understand though before you purchase this game is that you only get about 3 hours of gameplay. I didn't understand this and am now sadden. Something else you should know is that there is no revisiting any level to gain levels or bolts to upgrade things. In fact, the vendors are gone entirely from this title.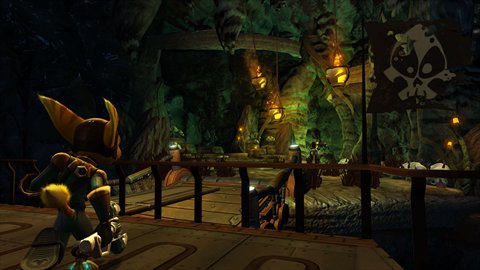 There are also not a lot of new features in Quest for Booty and sadly they are only for one weapon: the wrench. You now have the ability to tether your wrench onto things to pull them down. And you can now carry objects around with it. That's it.
This 8th installment in the series shouldn't really be considered an installment. It is more like an overpriced extra level for Tools of Destruction, minus…you guessed it…Clank.
If you are a diehard fan of Ratchet and Clank, then by all means spend your money on this. But if you are in the market for a game that lasts longer than 3 hours, look elsewhere. While Quest for Booty has a lot of the same elements that made Tools of Destruction great, it just doesn't carry its weight in, well, booty.




- Tyler (Chiko)