Samsung XL2370 23 inch LCD Monitor Review
Overall Score: 78 / 100
Good: Really slim design, Cheap LCD(LED) display, Samsung quality, super light weight
Bad: Terrible viewing angle, Standard Samsung glossy reflection of anything around the edge of the screen, Unresponsive touch menus, Can find a better LCD for cheaper, Little to no tilt stand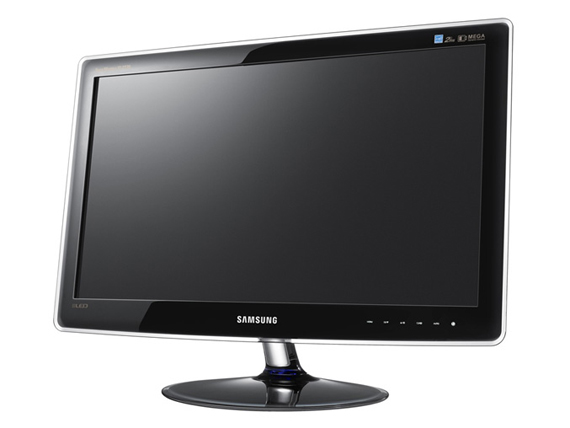 Quality and Performance: 20 / 25
Good: This thing is a Samsung and you are getting what you pay for. The build quality, the sleek design, and the sturdy stand are all home-runs. Samsung makes solid products and the XL2370 falls right in line. As far as performance goes, this monitor is quick and vivid. The LED technology behind this display really comes through on colors and provides a really sharp picture. Gaming is also really nice with the 2ms(G2G) response time.
Bad: Kind of tough to get the brightness and contrast levels just right. Also, see below about the viewing angles, the not so friendly touch menus, and glossy finish that needs to stop happening.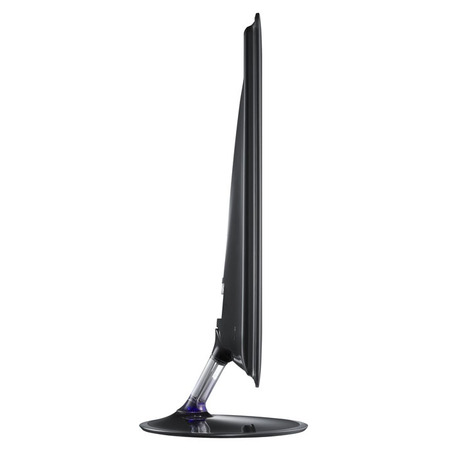 Size and Design: 20 / 25
Good: Let me start by saying this thing is slim...like anorexia thin. The monitor takes up almost no space on your desktop and really makes you feel like you are living in the 'modern age' of technology. And speaking of the 'modern age,' the menu buttons on this monitor are all touch. They run along the bottom right of the screen and can be set to only appear upon your touch, or to be lit constantly.
Update: Thank you redeath - "The LED in it is only the backlighting. The Samsung XL2370-1 23" widescreen LCD monitor features an LED backlight that yields a brighter screen, yet requires less energy instead of the traditional halogen florescent backlight. This is a big scam many of the stores and TV manufacturers are currently using to trick people into buying LCD TV thinking they are buying an LED TV."
Bad: The touch menu buttons are really moody. Sometimes you can get it on the first press, but usually it takes a couple tries to get it to respond. While you will probably only change your menu settings when you first get the monitor, it is still annoying none the less. Also, when you turn the monitor on with your computer being asleep, it will cycle through all the input options until it finds what you are connected to. It wouldn't bother me if it didn't take around 5 - 8 seconds on each input (plus, DVI is the last one it hits).
The glossy plastic that Samsung keeps making their monitors with needs to stop. It is beyond me why they think it is a good idea to have a mirror plastic finish running along the inside of the display where the monitor is projecting. The result is that everything along the edge of your screen gets reflected on the inside edge of the monitor.
Finally, this monitor tilts up...a few degrees. It does not tilt down at all and the word 'tilt' just seems misplaced here. You get the option of looking at this display straight on or from a very tall man's perspective.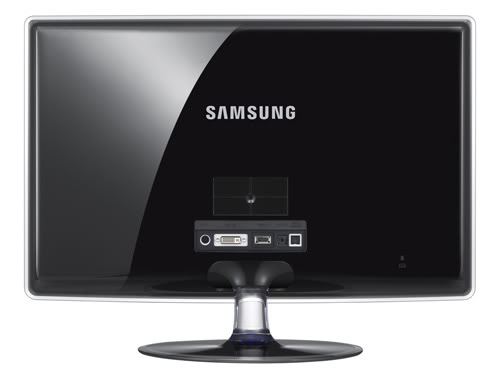 Viewing angle: 18 / 25
There is really only a bad part for this section. The bottom line is that the viewing angle on this display sucks. If you are looking up at this monitor in any way, you will see the top of the screen go dark.
Price: 20 / 25
The price isn't bad. You can pick one up at Best Buy for $299.99 or online for as low as $219.99. Honestly, I like spending the little extra cash to be able to take it back to a store. That's just me. But, for what you get in this display (2ms response time, HDMI port, 5,000,000:1 Dynamic Contrast Ratio), the price is hard to beat.
Overall:
This is a great budget 23 inch display. For being an LCD with LED back-lighting, and being under 300 bucks, what more do you want? Though it does have a few draw backs, it is a pretty sleek monitor. That said, you can get a nicer 24 inch LCD for cheaper. For that reason alone, it is hard to recommend this guy to anyone.
- Tyler Sanders (Chiko)