Antec 900 Case Review
Score: 94 / 100


*Good:* Solid, great cooling and airflow, lots of space inside, handy front ports


*Bad:* Semi-loud fans, heavy, have to remove back side panel to install anything in bays


Usually when you buy computer hardware, you buy it to be 'future-proof'. Basically you don't want to buy something that you have to replace a year down the road. Getting two – three years out of anything these days is a pretty good definition of something that is future-proof. The Antec 900 is not only a great solid case, but also meets our definition for being future-proof.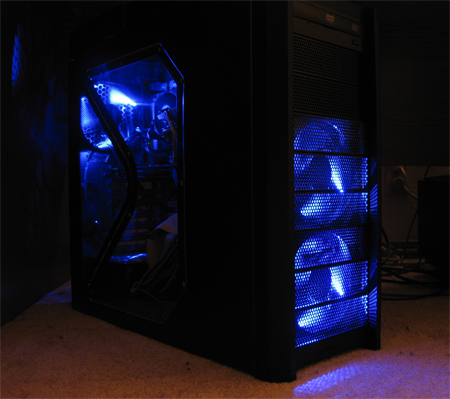 The first thing I should mention about this case is that it is solid. There are no plastic or flimsy aluminum pieces on this beast. While this is nice, it does add a lot of weight to the case. I personally just came from a completely aluminum case to this and I already miss how light my other case was.
The second thing that should be brought up is how spacious this case is. Not only can you SLI two 10.5 inch video cards, but you also have tons of room to work with while you are installing other parts. This thing is a full tower, and it means it.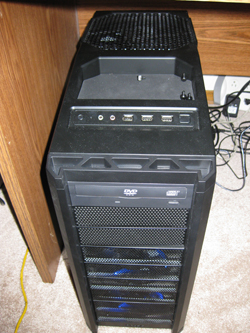 On a side note, I am very particular when it comes to computer cases. I have even been known to take weeks to find the perfect case for whatever my needs are. With that said, I have a list of things that I look for: Interior case space, weight, airflow, size, lighting, case noise, and front panel ports. I balance all of these factors out and usually end of with a great case.
While the Antec 900 meets a lot of the standards of my case list, the thing that is kind of bad about it is the noise factor. My old Tsunami Dream was so quite; you couldn't even tell if it was on. Frankly, The Antec 900 isn't terribly loud, but you can definitely tell it's on. I am sure this is a result of the three 120mm fans and the giant 200mm fan spinning to keep the case nice and cool (which it does with flying colors).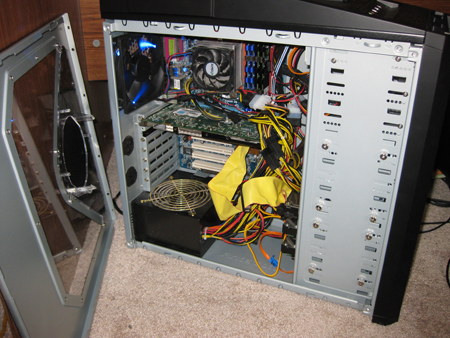 Something else that is frustrating about this case is that you have to remove the back side panel to install anything in the front bays. This includes hard drives. While it is sturdy, it is not at all practical.
The Antec 900 is a great case though. With great airflow, a nice spacious case design, and a solid structure, this case is worth the money.


- Tyler (Chiko)